Hi and apologies for not noticing your post sooner.
We are at Bingham rugby club every Friday evening weather permitting from 6pm. You are most welcome to pop over and visit

Cheers Dave
__________________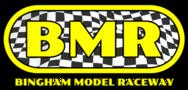 Website:
https://bmrrc.wordpress.com
Schumacher Cat Xls, Schumacher Laydown, Tekno eb410, Rc10 Team(retired), Mardave Cobra, SST 98 Rally Car and TT02 Rally car #71 #deaddogracing #tekno
Autocare, unit 5 candleby Court, Cotgrave NG123RT.